Share the Music Share the Fun! Refer your friend!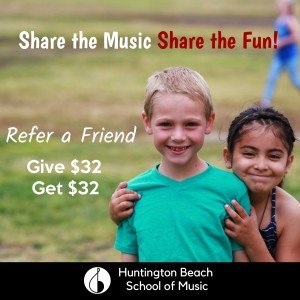 Getting your friends involved with the program lets them share in similar interests and makes it all that more fun. We will gift both you and the referred family, each $32 (equivalent to a FREE 30-min lesson!) There is no limit to the amount of referrals you can make.
Here's how it works…
Music lesson is more fun with friends, and it's very simple to refer your best pals and get a small reward — for you and your friends.
In Person
The next time you come to Huntington Beach School of Music, bring a friend. This way they can experience the benefits of music lesson with you. If your friend signs up, you get $32 toward next month and your friend gets $32 off their first month.
When your friend signs up, just specify your name in the registration form online at http://www.hbschoolofmusic.com/registration so that we know whom to send our thanks and the reward.
By social media
It's super simple to share on Facebook. Just click the links below to refer your friends.