Violin Lessons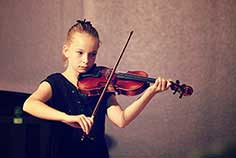 We offer violin lessons for all ages and levels. Our string teachers are well qualified to teach from beginners up to advanced and adult students. We also have violin classes for children as young as 3 year old using the Suzuki method. Teachers will also work with students who wish to join the school or local orchestra to prepare for auditions.
We always encourage and help our students to perform with other students. This can be accomplished formally through our annual recital, or informally by performing together with other students at our school's showcases or gathering events.
Free introductory violin lesson & evaluation Book Now!
Performing opportunities at the Recitals held at our school (which are free!) throughout the year and at other events
Have the most fun making music - join our growing chamber group programs
Ongoing enrollment - stop by anytime
Flexible hours to accommodate your busy schedule
Violin lessons tailored to meet the individual needs of students
Professional musicians providing quality education
Tuition Rates
The rates listed below include not only the lessons, but also all of the activities HBSM has offered for its students, from the make-up lessons to the recitals (i.e., participation in at least 6 recitals per year, at no extra cost), etc. Because progression is not only the lessons, it is an ensemble!
There is a one-time registration fee $25 per student ($40 per family) for all students.
Private Lessons (One on one)
| | Pay-Per-Lesson * | Month to Month ** |
| --- | --- | --- |
| 15 min | NA | $17 per lesson - $68 per month (4 weeks) |
| 30 min | $37 per lesson | $32 per lesson - $128 per month (4 weeks) |
| 45 min | $53 per lesson | $45 per lesson - $180 per month (4 weeks) |
| 60 min | $68 per lesson | $55 per lesson - $220 per month (4 weeks) |
* Pay-Per-Lesson is for those students who wish to take less consistent lessons, fortnightly or less often. This plan allows for greater flexibility of scheduling. Payment is required to be made at the time lessons are scheduled. Cancellation must be made 24 hours in advance.
** Month to Month (monthly tuition) is for students who wish to take consistent lessons. Students are required to commit to at least one lesson per week (4-5 lessons per month). The tuition fee is paid at the beginning of each month. The number of lessons billed is based solely on the number of lessons for your given day in the next month (e.g., if your lesson day is Monday and there are four Mondays in the month, you will be billed for four lessons, if there are five Mondays in the month, you will be billed for five, etc.). Lessons are pro-rated for new students according to their start date.
Semi-Private Lessons (2 students / teacher)
Semi-private lessons can be arranged for two students of similar age and skill level. This plan is most suitable for siblings or friends who want to have lessons together.
| | Month to Month |
| --- | --- |
| 30 min | $18/student per lesson - $72/student per month (4 weeks) |
| 45 min | $25/student per lesson - $100/student per month (4 weeks) |
| 60 min | $33/student per lesson - $122/student per month (4 weeks) |
Join Today!
We usually start students with one 30-minute lesson per week, depending on the student's attention span, the instrument, and the student/parent's needs. Many students eventually move on to 45-minute or hour lessons.
We offer a no-commitment trial lesson so you get a chance to meet your teacher and see if it's a good fit before committing to a tuition plan Book Now!
After the trial lesson, if you want to sign up please fill out our registration form
Performance opportunities
Recitals boost confidence! Taking part in a recital helps performers to overcome shyness, fear, anxiety and stage fright. It gives students a chance to showcase all of their hard work, dedication, and progress throughout the year. As children experience getting on stage, performing for an audience, and being applauded for their efforts, they gain self-confidence that will carry with them in all aspects of school and life.
At HB School of Music, we offer a variety of opportunities for our students to perform in a confidence-boosting and supportive setting. We have 2 recitals every year, our Annual Recital in the Spring and a Winter Recital at the end of the year to showcase our students' progress. Students will also receive a trophy at the annual recital.
In addition to annual recitals held at an outside venue, we regularly host mini-recitals at Recital Hall of the school. This will give our students many more performance opportunities throughout the year. We always make sure that students get to perform on a grand piano. For our students these recitals are free.
Refer a Friend and Get Rewards!
We love referrals! Because we have such happy customers, we get a lot of new students through referrals. Getting your child's friends involved with the program lets them share in similar interests and makes it all that more fun. Or maybe you have friends with children that love music and may want to start learning an instrument? Either way, as a way of saying thanks, we will gift both you and the referred family, each a FREE lesson! There is no limit to the amount of referrals you can make.
Semi-private Lessons or Private Lessons?
We believe that private violin lessons offer you the best chance for success. The individual attention that you will receive in private study is far more valuable than the limited attention that you will receive in a group lesson. Even though group classes might seem more affordable, a group teacher is simply unavailable to give you the focused attention you need and will receive from private violin lessons.
Therefore, we don't offer group violin lessons. However, we do offer semi-private lessons (2 students per class) but it totally depends on if there are people in the waiting list who also wish to take semi-private. This plan might be suitable for siblings or friends who would like to have lesson together in the first few months to figure things out before taking more invidualized private lessons.
We believe violin lessons should be inspiring, social, supportive, and above all: FUN!
Our Violin Teachers
Frequently asked questions