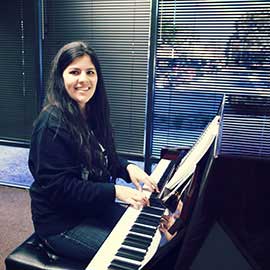 Piano, Violin
Bachelor of Arts, Majored in English and with Minor in Music from Brigham Young University, Idaho
Biography
Chelsea comes from a line of musicians, artists, and poets. Music is in her blood, and she is mostly self-taught. Though she is well versed in various instruments, her main instruments are the piano and the violin. She picked up the piano at age 8 and the violin at age 9. She taught beginner piano through high school before going off to college. Chelsea took 3 years of Musical Theory, 1 year of piano Pedagogy, and music composition. She was involved in various ensembles in University (baroque, symphony, folk/rock, Celtic) and continue to be in her community (OCMCO).

Chelsea got her Bachelor's in English and with a minor in music from Brigham Young University, Idaho. She currently has a musical performance business, specializing in Latin/South American Folk music. Her band performs around Orange and LA county in public and private places.
---
Hometown: Placentia, CA
Years Teaching: 13 years
Hobbies: When I'm not performing, composing, or teaching, I enjoy relaxing at home and with a plate of apples with peanut butter. :)
Message To You: I want all of my students to know that music is a gift. Learning an instrument is a great talent to be shared, and it can be frustrating at times, but in the end it is well worth the hard work. I promise to make the learning process fun while still encouraging you to play to the best of your abilities. So on that note, I look forward to making beautiful music with all of you!