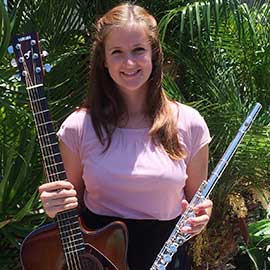 Bettina Houser
Guitar, Ukulele, Flute, Piano
Bachelor of Arts, Majored in Early Childhood Education from BAKIP Linz, Austria
Biography
I am originally from Austria, the center of classical music and have had my musical education on my instruments there. I came to the US when I was 20 years old and met my now husband. I am currently in college to get a US certified BA in Arts so I can teach music in High school.
---
Hometown: Huntington Beach, CA
Years Teaching: 12 years
Hobbies: I love to be active with my husband and dog outdoors, play Volleyball and spend time with Friends and Family. Arts and Crafts are fun to me, especially sewing, making old furniture new and really anything that has to do with DIYs.
Message To You: Music is my passion and an enrichment to anybody's life who wants it. I believe music challenges the brain in certain ways which are beneficial to any area of learning.