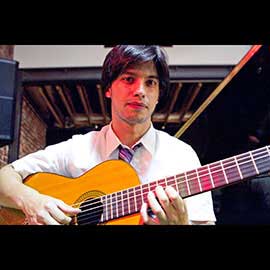 Dr. Hugo Nogueira
Guitar, Ukulele
D.M.A. (Doctor of Musical Arts in Classical Guitar Performance) from University of Nevada, Las Vegas
Performing in different states across U.S. such as California, Nevada, New Mexico, and Michigan
Biography
Brazilian guitarist Hugo Nogueira won the 2011 American Guitar Society competition. After attending three prestigious conservatories in Brazil, he obtained a Bachelor's degree in Composition in 2007 and a teaching credential in 2010. Hugo continued his studies earning his Master's Degree in Guitar Performance at Azusa Pacific University. Additionally, he has had masterclasses with world class guitarists such as Ana Vidovic, Jason Vieaux, Scott Tennant, and Marc Teicholz. Hugo has also participated at guitar festivals such as La Guitarra in San Luis Obispo, Sierra Nevada Guitar festival, and New Mexico Guitar Festival. Awarded an assistantship in the fall of 2013, Hugo began to work on his Doctorate in Classical Guitar Performance at UNLV with the internationally renowned concert guitarist, Ricardo Cobo.

In 2014 and 2015, Hugo was invited to be part of the guitar competition committee at the Clark County School District, Las Vegas Academy of Arts, and Junior festival in Las Vegas, Nevada. From 2013 to 2017, while working on his terminal degree (DMA), Hugo was teaching group guitar class, theory, private lessons, and guitar ensemble at UNLV. In the last few years, Hugo has been performing in different states across U.S. such as California, Nevada, New Mexico, and Michigan. In May 2017, Hugo graduated with a Doctor of Musical Arts.
---
Musical Background: I have taken 4 years of piano lessons while working on my Bachelor's degree. I also studied Classical guitar and jazz guitar in three distinct conservatories in South America and two different universities in USA.
School: After finishing my Bachelor's Degree in composition and teaching credentials in Sao Paulo, Brazil, I decided to pursue a Master's Degree in guitar performance at Azusa Pacific University. In 2013, I was awarded a graduate assistantship to teach group guitar class, guitar ensemble and private lessons at UNLV. In 2017, I graduated with a Doctor of Musical Arts (in classical Guitar performance) at University of Nevada Las Vegas.
Message To You: Teaching is a major component of my musical life. I enjoy teaching students, rejoice at their progress, and am always on the lookout for new pedagogical approaches. I strongly believe education can change lives and communities. Teaching with enthusiasm is fascinating, engaging, and a key factor to inspire students. I also believe that the ideology behind that kind of teaching is to create a quest for knowledge that never ends and will result in a consistent development for the student as a musician and as a person.