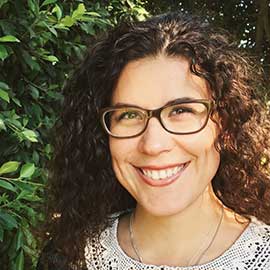 April Mendiola
Voice Teacher
Bachelor of Arts, Majored in Music Education (Choral) from California State University, Fullerton
Pursuing a Master of Music, Majored in Vocal Performance (Anticipated: May 2019) from California State University, Long Beach
Biography
April Mendiola is an active performer, church musician, music educator, and voice teacher and coach. She received her Bachelor of Arts in Music Education with a choral emphasis from California State University, Fullerton. She also earned a K-12 Single-Subject Teaching Credential in Music from CSUF. Ms. Mendiola is currently pursuing a Master of Music degree in Vocal Performance at the Bob Cole Conservatory of Music at California State University, Long Beach. She is very passionate about the study and research in the field of vocal pedagogy, and is constantly seeking new knowledge to develop effective techniques and approaches to teach the art of singing. Upon completing her masters degree, Ms. Mendiola plans on continuing her higher level education at the doctoral level.
---
Hometown: Alhambra, CA
Musical Background: I have been singing for as long as I can remember! However, I did not discover my passion for singing until a breakthrough I had as a junior in high school. I began playing the violin as a third grader in elementary school. I then started learning how to play the flute in fifth grade, took on the baritone horn in seventh grade, and then the trombone in tenth grade. Although I still play these instruments occasionally, it was in singing that I found my voice.
Years Teaching: 9 years
Hobbies: When I am not engaging in something related to music, I enjoy comedy improv. I love to laugh and enjoy making others laugh. I like to dance, attend flea markets and farmer's markets, as well as go to Six Flags Magic Mountain. I am an adrenaline junkie. (I get on all the crazy rides!) I also enjoy ice-skating, though I am not very good.
Message To You: Anyone can sing! I'd like to make every musician feel like they CAN. Even though there are times when it seems too difficult, our love for music can pull us through it all! Like any other muscles in the body, our vocal mechanism needs consistent care, attention, toning, and conditioning. Our body is our instrument. This is what we were born with. I am excited to help singers get to know their voices and unlock their maximum potential to share their gifts with the rest of the world!