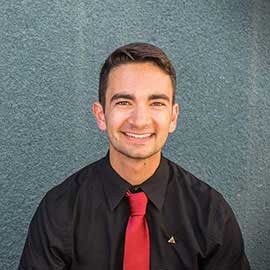 Dennis Feinland
Wind, Piano Teacher
Biography
---
Hometown: San Diego, CA
Musical Background: I studied piano in elementary school and have since resumed, now in college. I began studying the saxophone at age 8 and continue to this day. Throughout high school and college I've studied nearly the entirety​ of the woodwind, string, brass, and percussion instruments in performance and K-12 pedagogy.
School: I currently attend California State University Long Beach, double majoring in Music Education and Saxophone Performance. Additionally, I am a member of the University Honors Program and serve as the Student President of the university's chapter of Phi Mu Alpha Sinfonia--a national Music Fraternity--as well as the university's Instrumental Representative for the National Association for Music Education.
Years Teaching: 6 years
Hobbies: Outside of music, I spend most of my time studying personal development, leadership, and nutrition. In addition to this, I love exercising, camping, and enjoy nearly any outdoor activity (my favorite is hiking).
Message To You: Music serves only as a positive influence in our lives. Creating a relationship with music (as a performer, listener, or advocate of) allows us to bring others together for our unconditional benefit. Nothing else has such an ability to relieve of us our worries and transcend our lives! As a passionate performer and educator, it is my goal to inspire such a love for music in those around me. I hope to develop the best in my students for the good of all.