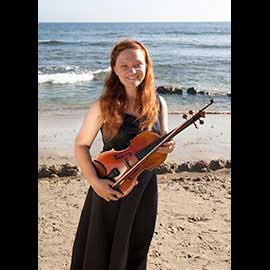 Taylor Cooksey
Viola, Violin, Cello, Piano Teacher
Biography
---
Hometown: Mission Viejo, CA
Musical Background: I studied piano privately for five years when I was younger, and I have resumed my studies since entering college. I studied violin and cello for nine years and for four years with private instruction. I have studied viola for four years with private instruction. In high school, I was also a part of the school's marching band, playing in the drumline and marching with the mellophone.
School: I am currently enrolled as an undergraduate at California State University, Long Beach, double majoring in viola performance and music education.
Years Teaching: 6 years
Hobbies: In addition to music, I love studying new languages and playing videogames. I also love taking care of my pet bunny, Bradley!
Message To You: Music is a powerful medium for creative expression and personal enrichment. Music, both for the performer and the listener, helps us to see the world in a different, more original light, and gives us a healthy and beautiful emotional outlet. I want to help my students reach their highest potential in music, and even though it takes a lot of hard work and dedication, I want my students to learn and to always remember how wonderful and fascinating it truly is to have music in their life.