Music exams are a great opportunity for students to measure their achievement. Preparation for exams gives students motivation to practice harder and to improve their skills. Exams lay good foundations for music making while encouraging students to reach their full potential and also help them to take pride in their achievements.
We offer preparation for Associated Board of the Royal Schools of Music (ABRSM) exams at Huntington Beach School of Music.
ABRSM Exams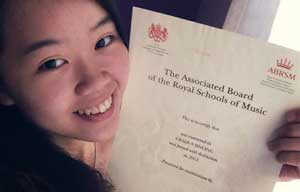 ABRSM is the world's leading specialist in music assessment. Exam includes performance and music theory.
---
Grades
The exams are graded in eight levels – Grades 1 to 8. There are no age restrictions and students can start with any grade or skip grades if they want to. You can find more information about the ABRSM exams at the link below:
---
Exam venue
The venue nearest to us is located in Los Angeles. Please check the updated local exam venues.
---
Exam dates and fees
Dates: exams are held twice a year in April to May (for 1st session) and October to November (for 2nd session)
Fees: depending on grades. From $70 to $355 for performance and $47 to $99 for music theory
Please check the updated exam dates and fees
---
Additional information
Frequently asked questions