HB School of Music's owners are featured on CBS2, "This is LA" EP 319. "This is LA" is Circle 8 Production's newest lifestyle television show that features the hottest new local businesses, restaurants, trends, products, and weekend getaways. The program will provide an inside look into the fast paced and ever changing landscape of Southern California, with an emphasis on what's trending in the area's lifestyle leader, Los Angeles.
The school was founded under the name Concert Music School with your child's music education and future in mind. The study of music has been demonstrated to significantly enhance intellectual and artistic development of a young person and to help them develop confidence and a positive outlook about who they are and what they can accomplish.
From September 2017, Concert Music School has changed its name to Huntington Beach School of Music.
We believe learning to sing or play an instrument should and can be fun. It's very important that every student has access to high quality music instruction, also given the opportunity, encouragement, and supportive environment to perform regularly. Our school's mission is to provide this access, opportunity, and the environment where natural musical growth can be nurtured.
Meet the owners
Mai and her husband, Cuong, share the love of music. They bought Concert Music School in 2014, which is now Huntington Beach School of Music. They want to foster the love and enjoyment of music in the community. It is her wish that every student has access to quality music education and performing opportunities. She has two nephews and loves spending time with them as much as possible. She finds fulfillment in seeing children connect with music and enjoy learning.

Mai holds a PhD in computer science from École Centrale Paris. Although she has a strong background in information technology and software development, she now finds herself completely absorbed in her new passion. She is keen to offer assistance to others in any way she could. When she is not busy sipping coffee, she enjoys decorating the school, and supporting HBSM's wonderful teachers in creating a happy environment for students to develop their full potential.
---
Graduated with a Bachelor in Music with Honors from New Zealand, winner of the Yoshiro Irino memorial price in composition (1984), having received the gift of music as a young adult through charities, and earned his music lessons by doing gardening work, he is now passionate about music education, developing young talents, looking to music not just for the joy that it brings but also using it as a vehicle for personal development.
---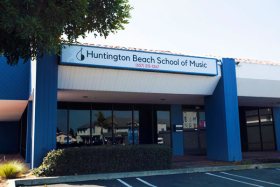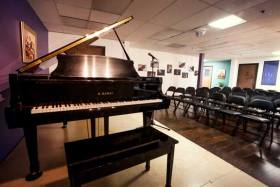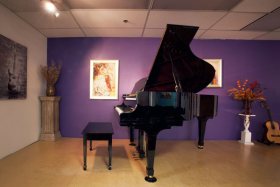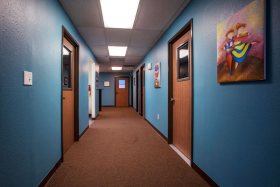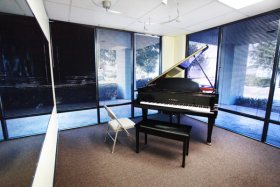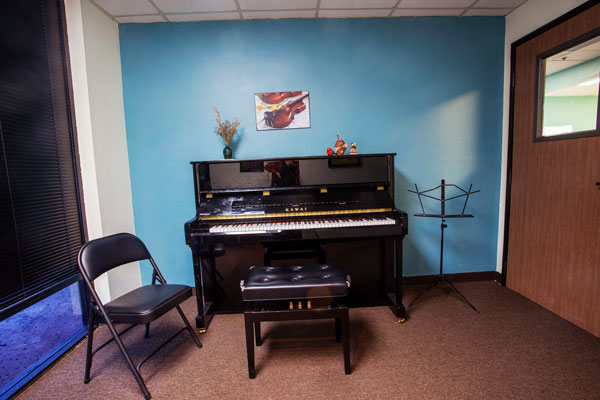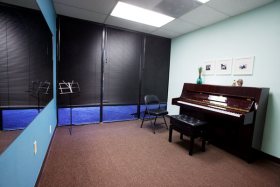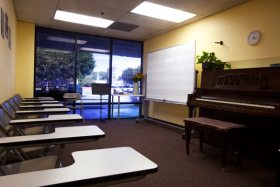 Convenient location and spacious parking
Large and bright classrooms: 10 private classrooms, a large group class room and a recital hall
Top-of-the-line upright and grand pianos
Comfortable waiting area for parents and siblings with free Wi-Fi, children's homework tables
Easy drop off/pick up
Books available for purchase, for your convenience
When you enroll at Huntington Beach School of Music, you open the door to many membership benefits beyond the lesson room, including:
One time registration fee

Most other schools charge registration fee every year! We don't! You only pay registration fee once when you first sign-up and don't pay it again as long as you remain a student.

No long term contract

Our tuition is paid monthly - You can withdraw at anytime with just 14 days notice, or switch teacher if you feel like trying a different teaching style or a different instrument.

One hour of music theory per week at no extra cost

When combined with a weekly private 30-minute lesson, that's getting 90 minutes of expert instruction for less than $40 per week!

Opportunities to join a professionally coached orchestra at no extra cost
Wide-open access to lesson rooms and The Recital Hall for all of your practicing and performance needs.
Many opportunities to perform

At least six Concerts held at HBSM's recital hall (or online) per year, at no extra cost; musical evenings (only for adult students), at no extra cost; two annual recitals at a big theater.

A flexible and generous approach to lesson make-ups

Most other schools don't allow any private lesson rescheduling. We do our best to accommodate your busy schedule and offer reasonable rescheduling of private lessons with your teacher or a substitute.

Discounts on tuition fee for family members

When you enroll more than one person in your family in our private music lessons, 10% discount will be applied to the lowest priced tuition fee. This family discount will be applied to each additional sibling that registers.

Scholarships/Financial Aid for students with high potential or with financial needs.
and much more!