We believe music lessons should be inspiring, social, supportive, and above all: FUN!
Private Lessons: Piano and More
Our private classes are tailored to meet the individual needs of the student. Lessons may vary from 30 minutes to an hour, depending upon the progress of the student.
We teach basic music fundamentals, including note reading, rhythm, singing, and how to play various instruments. Using special teaching-techniques and games, students will learn to read music quickly. Rhythmic play will include teaching small children how to keep time to the beat of the music. Teachers use various creative methods in helping your child to understand different musical terms.
Glee Choir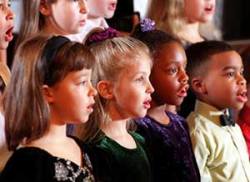 Choir allows students to develop their singing skills as well as their appreciation for music. Students work together as a team to prepare a mixture of harmonies and fun songs to perform throughout the year. Singing, Dancing and Acting, the students as an ensemble will be able to create a musical performance.
Our director will guide the students in choosing the repertoire, the theme and plot, and will write a script for the scenes.
Voice technique and body language will be part of each rehearsal combined with improvisation and creation.
Learn More
Inquire
Chamber Music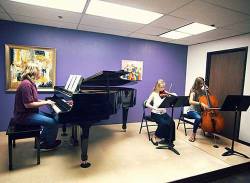 Performing in a chamber music ensemble is one of the most rewarding and enjoyable experiences for a musician. Students expand their overall musicianship, technique, and performance skills. Ensembles comprise various combinations of instruments including piano, woodwinds, and strings. Groups range in size from two to six performers.
Chamber groups will be coached by a teacher of our school. The coordinator will arrange the weekly coachings based on the schedules of the coaches and participants. The semester includes thirteen coachings, a master class, and a final performance.
Chamber groups are formed based on matching the level, age, and skill of the musicians who perform a successful audition.
Learn More
Inquire
Join Today!
We usually start students with one 30-minute lesson per week, depending on the student's attention span, the instrument, and the student/parent's needs. Many students eventually move on to 45-minute or hour lessons.
We offer a no-commitment trial lesson so you get a chance to meet your teacher and see if it's a good fit before committing to a tuition plan Book Now!
After the trial lesson, if you want to sign up please fill out our registration form
Meet Our Teachers