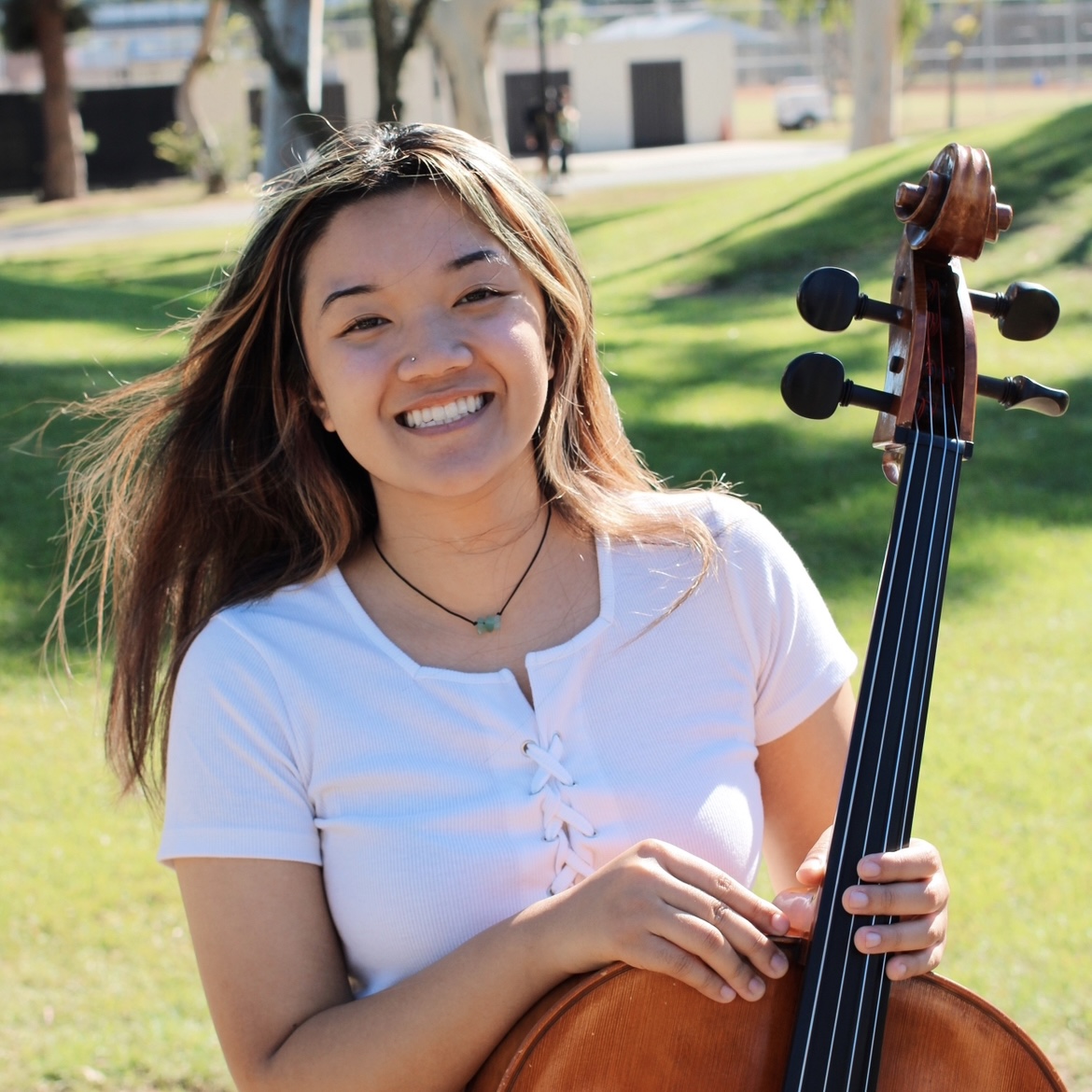 Cello, Piano
Biography
Jasmin Cruz, a Bay Area native, is an emerging music educator with a tireless passion for igniting musical curiosity. Jasmin's musical journey commenced with piano lessons, then expanded in the 4th grade with a humble cello in hand. After playing in school orchestras, she took flight with the Napa Valley Youth Symphony in middle school, where her talent as a cellist flourished. She then further developed her skills in the Napa Youth Chamber Ensemble under Symphony Napa Valley concertmaster Yasushi Ogura. A graduate of American Canyon High School, Jasmin became a driving force across diverse musical ensembles there. From award-winning choirs to the strings orchestra, marching band, and jazz ensemble, she immersed herself in every musical facet the school offered. Inspired by dedicated teachers and mentors, Jasmin resolved to make music her life's pursuit.

Currently, Jasmin is diligently pursuing dual Bachelor's degrees in Music at California State University, Long Beach, majoring in Instrumental Music Education and Strings Performance. A dedicated cellist, she contributes her talents to the BCCM Symphony, refining her craft under the tutelage of Dr. David Garrett from the LA Philharmonic.

Beyond her performance prowess, Jasmin's commitment to nurturing musical growth has taken root in her teaching endeavors. With years of experience teaching piano and cello in private settings, she has honed her ability to impart the gift of music to eager learners. However, her ultimate goal is to become a classroom music educator. In this pursuit, she has already gained valuable experience coaching cello and strings in various Southern California schools, starting in the Fall of 2022 and continuing with constant dedication.
---
Hometown: Napa County, CA
Musical Background: I studied classical piano for about 12 years, dabbled in jazz for 2 years, and have been studying cello for over 12 years. There is never a "stop" to learning, even now I am constantly growing!
School: Bob Cole Conservatory of Music @ California State University, Long Beach (2020-)
Hobbies: I love spending my free time (when I have it!) in the kitchen either cooking or baking, knitting, or traveling!
Message To You: I have adopted my first cello teacher's teacher's philosophy I don't teach music, because music cannot learn; I teach the human being. Music has changed many lives (including mine) with such positive outlooks, and I hope to share my love of music with you so that you can not only grow as a musician, but also experience and share this beautiful art with the world.