Group Classes
Glee Choir: Les Misérables - Highlights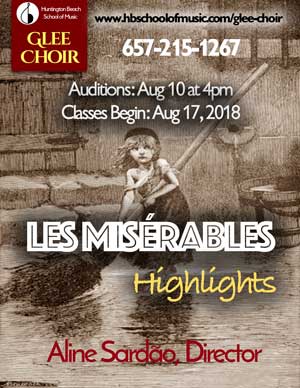 This class is unavailable at the moment.
Choir allows students to develop their singing skills as well as their appreciation for music. Students work together as a team to prepare a mixture of harmonies and fun songs to perform throughout the year. Singing, Dancing and Acting, the students as an ensemble will be able to create a musical performance. Voice technique and body language will be part of each rehearsal combined with improvisation and creation.
Our director, Ms Aline Sardao, will guide the students in choosing the repertoire, the theme and plot, and will write a script for the scenes.
Performance: Friday November 16 2018 at 6pm
Place: HBSM's Recital Hall - 4952 Warner Ave, Suite 111, Huntington Beach, CA 92649
Free entrance
Special Guest Artist
We are honored to have a special guest artist participation in this program:
Jackie Williams is a member of SAG-AFTRA with an extensive background in theater. She has performed professionally with the Oregon Shakespeare Festival and Solvang Theaterfest. She is professional studio singer and is a member of the St. Francis de Sales choir, under the direction of Jeannine Wagner. In addition, she has sung with the Wagner Ensemble.
Jackie's father is accomplished percussionist Don Williams and her uncle is none other than the legendary composer, John Williams!
---
Jackie will be with the choir for:
Final Performance: Friday, Nov 16 2018 as our narrator
Dress Rehearsal: Sunday, Nov 11 2018 (2pm to 4pm)
Masterclass: Saturday, Oct 13 2018 (10am to 12pm)
Description
Les Misérables is the world's longest running musical – a true modern classic based on Victor Hugo's novel and featuring one of the most memorable scores of all time. With countless awards to its name, Les Misérables is as groundbreaking today as it was when it first premiered in London in 1985.
In nineteenth century France, Jean Valjean is released from 19 years of unjust imprisonment, but finds nothing in store for him but mistrust and mistreatment. He breaks his parole in hopes of starting a new life, initiating a lifelong struggle for redemption as he is relentlessly pursued by police inspector Javert, who refuses to believe that Valjean can change his ways. Finally, during the Paris student uprising of 1832, Javert must confront his ideals after Valjean spares his life and saves that of the student revolutionary who has captured the heart of Valjean's adopted daughter. His world view shattered, and Valjean finally attains the peace that he has sought for so long.
Epic, grand and uplifting, Les Misérables packs an emotional wallop that has thrilled audiences all over the world. The sung-through pop opera is ideal for a cast of exceptional singers and overflows with melodies that are already standards.
Casts
Jean Valjean:

Jean Valjean is the hero of the show. It is his life journey that we follow. The key to his character is his great humanity and compassion. Jean Valjean is a vocally demanding role.

Thenardier:

Thenardier is the true villain of Les Miserables. He delights in cheating, robbing, fraud and blackmail, relishing every aspect of them with glee. He hates society and blames it and everyone else for all his misfortune. A character singing voice is best.

Madame Thenardier:

She is the wife of Thenardier. Madame Thenardier is as "one" with Thenardier. Together they con the world as partners in crime. Actress must have excellent physical comedy skills, who is also a good musician with a good sense of rhythm.

Fantine:

Fantine is the beautiful young girl who, abandoned by her lover, is left to fend for herself and her daughter Cosette. The actress playing the role needs a powerful voice that is more mezzo (or alto) than soprano

Eponine:

Eponine is the daughter of Thenardier. She is a young girl who is streetwise and tough, but also sensitive and lonely.

Cossette:

Cosette is the beautiful daughter of Fantine. She is strong willed and loving. She is an intelligent, inquiring, personable girl.
Songs
At the End of the Day (Ensemble)
I Dreamed a Dream (Fantine)
Who Am I (Valjean)
Castle on a Cloud (Cosette)
Master of the House (M. & Mme. Thenardier and Ensemble)
Do You Hear the People Sing (Ensemble)
On My Own (Eponine)
Bring Him Home (Valjean)
Finale (Ensemble)
Performance time: Approximately 40 minutes
Details
Auditions:

Friday August 10 2018 at 4pm

Auditionee must specify what roles they are auditioning for, or a place in the ensemble

Classes begin:

Friday August 17 2018 from 4:30pm to 6pm

Performance:

Friday November 16 2018 at 6pm

Place: HBSM's Recital Hall - 4952 Warner Ave, Suite 111, Huntington Beach, CA 92649

Day/Time practice:

every Friday at 4:30pm

Duration:

90-min / session

Ages:

starting at 8

Fee:

$70/month or free for registered students taking private lessons
We are unable to give refunds or credits for missed classes