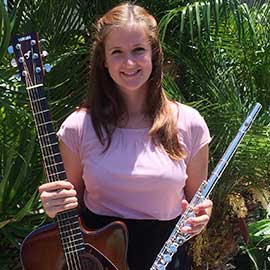 Guitar, Ukulele, Flute, Piano, Voice
Bachelor of Arts, Majored in Early Childhood Education from BAKIP Linz, Austria
Biography
I am originally from Austria, the center of classical music and have had my musical education on my instruments there. I came to the US when I was 20 years old and met my now husband. I am currently in college to get a US certified BA in Arts so I can teach music in High school.
---
Hometown: Huntington Beach, CA
Years Teaching: 12 years
Hobbies: Guitar, Ukulele, Flute, Piano
Message To You: Music is my passion and an enrichment to anybody's life who wants it. I believe music challenges the brain in certain ways which are beneficial to any area of learning.