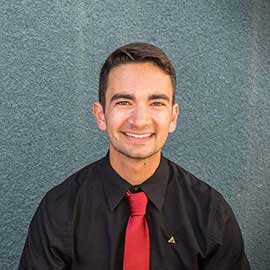 Dennis Feinland
Saxophone
Biography
Dennis started his passion for music at a very early age. Piano in elementary school, and saxophone by the time he was eight years old and continue to this day. Throughout high school and college Dennis has studied nearly the entirety​ of the woodwind, string, brass, and percussion instruments in performance and K-12 pedagogy. As an adult, he decided to pursue a career in music by attending California State University Long Beach, double majoring in Music Education and Saxophone Performance. Additionally, Dennis is a member of the University Honors Program and serve as the Student President of the university's chapter of Phi Mu Alpha Sinfonia--a national Music Fraternity--as well as the university's Instrumental Representative for the National Association for Music Education.
---
Hometown: San Diego, CA
Years Teaching: 6 years
Hobbies: Outside of music, I spend most of my time studying personal development, leadership, and nutrition. In addition to this, I love exercising, camping, and enjoy nearly any outdoor activity (my favorite is hiking).
Message To You: Music serves only as a positive influence in our lives. Creating a relationship with music (as a performer, listener, or advocate of) allows us to bring others together for our unconditional benefit. Nothing else has such an ability to relieve of us our worries and transcend our lives! As a passionate performer and educator, it is my goal to inspire such a love for music in those around me. I hope to develop the best in my students for the good of all.