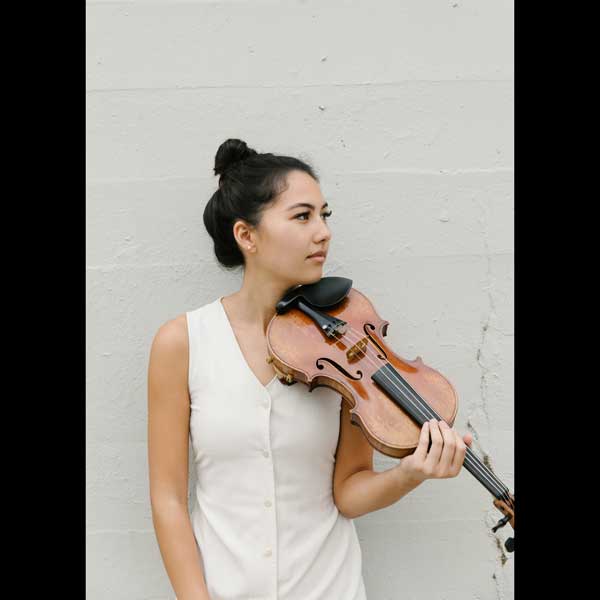 Violin
Jaclyn Kim is a Southern California based violinist, teacher, and performer. She has studied with well-known violinists including Midori Goto, Stephen Clapp, Simeon Simeonov, and many more. Over numerous years, Ms. Kim has grown her own personal studio and taught thousands of private and group lessons. Jaclyn Kim is a passionate, detailed, and focused performer and teacher.
Biography
Growing up in Southern California, Jaclyn Kim began playing the violin at age 4 and developed her skills in the pre-college program at The Colburn School of Music in Los Angeles. Ms. Kim completed her undergraduate degree and master's degree in violin performance at California State University of Long Beach where she was awarded the Bob Cole Conservatory of Music Endowed Scholarship, studying with Lorenz Gamma and Moni Simeonov. Ms. Kim also received the University String Quartet scholarship and was Bob Cole Conservatory Orchestra concertmaster from 2012 - 2018. During her studies, Ms. Kim toured to Busan, South Korea and soloed on tour to Berlin, Leipzig, Wittenberg, Germany, and Prague, Czech Republic. Currently, Ms. Kim is a member of the Redlands Symphony Orchestra and performs regularly with the Oceanside String Quartet. Ms. Kim continues her violin studies with Moni Simeonov and teaches private violin lessons throughout Southern California. After receiving Suzuki teacher training, Ms. Kim posts helpful supplemental Suzuki videos on YouTube. Ms. Kim also teaches at the Long Beach Harmony Project, one of Los Angeles's largest music education non-profit programs dedicated exclusively to low-income and at-risk youth. In her spare time, Ms. Kim enjoys swimming, playing racquetball, and creating visual art.

Before You Go by Lewis Capaldi

Gavotte from Suzuki Book 2
---
Hometown: La Palma, CA
School: Bachelor and Master of Music, Majored in Violin Performance from California State University of Long Beach
Years Teaching: 13 years
Hobbies: I really enjoy doing anything artsy or athletic. I was a ballerina and competitive swimmer growing up and I enjoy running and rock climbing in my free time now. I also like to paint, draw, and sew.
Message To You: Learning to play music takes effort and time; however, my greatest goal as a teacher is to inspire you and show you the beautiful, creative, and ingenious world of music.