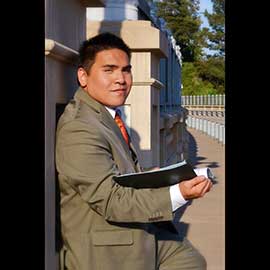 Magnum Nadal
Piano, Composition, Saxophone
Master of Music, Majored in Composition from California State University, Long Beach
Performing at Carnegie Hall in New York
Biography
Magnum Nadal is a composer/performer based in Southern California. He holds a Masters degree in Composition from the Bob Cole Conservatory of Music at California State University Long Beach, and a Bachelors in Music from the same institution.

Magnum enjoys "wearing several hats" while composing and is comfortable writing and performing in a variety of settings. Many of his works are based in multimedia interactions, and some recent compositions include works for Zotfest Film Festival, student animations, dance collaborations, video installations, and professional game composing and sound design for commercial release (credits include the Android app game Stack Attack, the visual novel Tatari, and the indie game The Last Arrow).

His concert works include premiers/readings by ensembles such as the VEDA Quartet, Gnarwhallaby, SoCal Brass Consortium, Conundrum, The Definiens Project, Choral Arts Initiative, and the Robin Cox Ensemble. More recent writing forays include blending of unlike styles and conceptual art pieces, and recent venues for these works have included LA ArtShare and ConVoke! Late Night Sessions.

As a multi-instrumentalist and singer, he has had the honor of performing at Carnegie Hall, the 53rd Annual Monterey Jazz Festival, Steamers Fullerton, the Banff Rocky Mountain Festival, Kimball Arts Festival, Los Angeles Bach Festival, Reno Jazz Festival, Oceanside Jazz Festival, and Star Wars In Concert under respective directors Bruce Rogers, Jonathan Talberg, William McIntosh, Jeff Ellwood, Christine Guter, Ian Brekke, and Joseph Modica. Magnum has also performed commercially with the roots/rock reggae group Better Chemistry and artists such as Pato Banton and Tippa Irie. He is active as part of an avant-garde/hip hop-EDM fusion duo with DJ "Thatz" Yanit, as well as a jazz pianist.

As an educator, Magnum has accompanied and guest directed for choral and vocal groups at Nogales High School (La Puente, CA) and Mt. San Antonio College, as well as coached jazz combos and chamber groups from the same institutions. He has worked as a class piano instructor in the MIND Music and Math method for Rowland Unified School District, and he has also taught and lectured at Village View Elementary School (Huntington Beach) and Northam Elementary School (La Puente). In addition to teaching for two years at Concert Music School and Learning Center, Magnum also offers advanced lessons in piano, voice, composition, and commercial production techniques to select students at his home studio.
---
Hometown: Southern California
Musical Background: I've been playing piano since I was 7. I auditioned during my undergrad with Piano as my main instrument to CSULB's Bob Cole Conservatory of Music, and I passed my Piano Proficiency exam to move onto the Composition major. This is roughly equivalent to a Piano Performance minor, so I am rated to teach Beginning - Intermediate - Advanced piano (high school-early college level). I have taught K-12 music classes and private piano.