Staff Bios
Taylor Trentham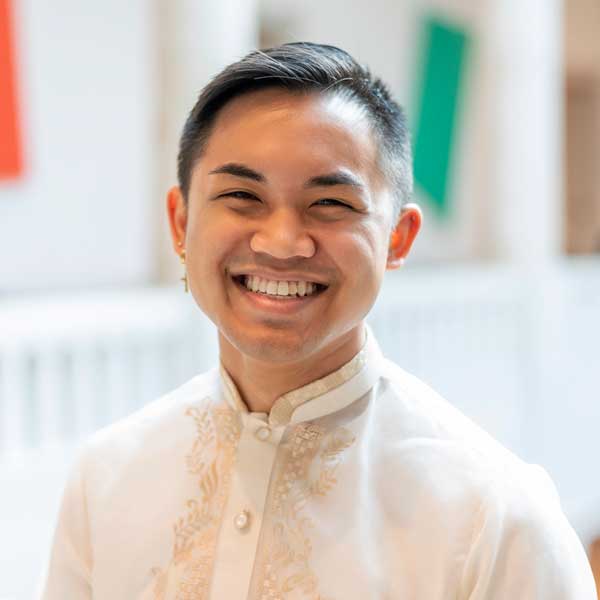 Voice, Piano
Taylor graduated from Roosevelt University's Chicago College of Performing Arts with a B.M. in Vocal Performance. He began studying piano at the age of 6, professionally singing at the age of 8, and studying classical voice at 16, continuing all through college.
Biography
Taylor Trentham is a Filipino-American tenor from Sevierville, Tennessee. He recently acquired his Bachelor of Music in Voice Performance under Judith Haddon at Roosevelt University's Chicago College of Performing Arts. He also graduated with a high school diploma in Vocal Performance from the Interlochen Arts Academy in Michigan.

Under the baton of Metropolitan Opera Conductor, Gregory Buchalter, he performed at the Varna International Opera Academy in Bulgaria as Gobin in Puccini's La Rondine, Abraham Kaplan in Weill's Street Scene, and Le Chat in Ravel's L'enfant et les Sortileges. He was a member of the Roosevelt Conservatory Chorus, appearing as a soloist in Craig Hella Johnson's Considering Matthew Shepherd. He has also performed as a chorus member in Chicago Symphony Orchestra and Chicago Sinfonietta performances of Beethoven's Symphony No. 9, Mozart's Requiem, Verdi's Requiem, Mahler's Symphony No. 2, and Home Alone in Concert.

Beyond classical music, Taylor has sang Musical Theatre and Country music professionally, sharing the stage with artists such as Dolly Parton. He has taught and coached a wide age range of students in a variety of musical styles, for both choir and solo voice.

Passionate about music education, Taylor worked for the Obama Foundation in Arts Education Research, helping top Chicago youth orchestras analyze and improve their management practices in order to better support minority students in music. Taylor believes every child deserves the opportunity to pursue music to their fullest potential.
---
Hometown: Sevierville, Tennessee
Musical Background: Taylor began studying piano at the age of 6. He started singing professionally at the age of 8 at Dollywood in Tennessee, performing several times with Dolly Parton and other country stars.

He began to explore classical voice at the age of 16, attending the Tennessee Governor's School for the Arts for Vocal Performance. He began studying classical voice at the University of Tennessee, and later attended the prestigious Interlochen Arts Camp in Michigan. He then moved to Michigan for the rest of high school, attending the Interlochen Arts Academy boarding school to devote his education to music.
School: Bachelor of Music in Vocal Performance, Roosevelt University's Chicago College of Performing Arts
High School Diploma in Vocal Performance, Interlochen Arts Academy
Years Teaching: 3
Hobbies: Being raised in the mountains of Tennessee, I enjoy hiking and being in nature. I've thoroughly enjoyed the beach since recently moving to Long Beach, often paddle boarding and catching sunsets. I also enjoy cooking traditional Filipino food and exploring art museums.
Message To You: Singing is all about freedom, joy, confidence and honesty. It is my greatest hope that my students experience not only musical growth but also personal growth as they learn in music.